Faculty & Staff
Dr. Jordan Metzgar, Curator
Jordan came to VPI after working at the University of Alaska Herbarium for ten years. His research has long focused on fern systematics, including his doctoral research on the circumboreal fern genus Cryptogramma.
MORE INFO
3006 Derring Hall, MC 0406, Virginia Tech, Blacksburg, VA 24061
540-231-5746; 540-231-6768; metzgar@vt.edu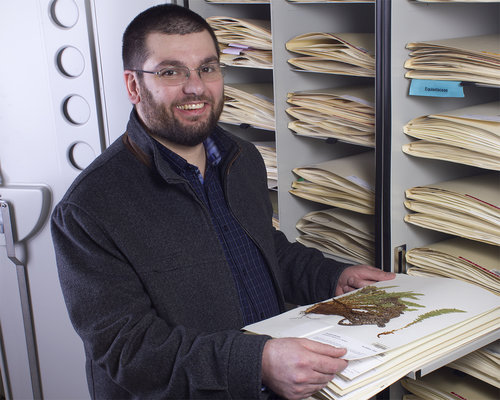 ---
Dr. Khidir Hilu, Emeritus Director
Dr. Hilu's research is focused on the molecular systematics and evolution of flowering plants and crops. His research has used DNA sequence information to understand the evolution of flowering plants (angiosperms) as well as land plants in general. This aspect of his work includes both basal angiosperms as well as eudicots. His research program is emphasizing the rapidly evolving plastid gene matK and the trnT-trnF region.
MORE INFO
2119 Derring Hall, Virginia Tech, Blacksburg, VA 24061
540-231-5407; hilukw@vt.edu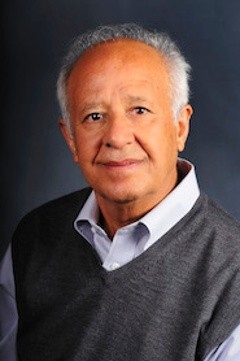 ---
Thomas F. Wieboldt, Retired Curator
Tom's long career at VPI focused on growing the herbarium through personal collecting all across Virginia, enhanced trading from the Southeastern U.S., and encouraging gifts from active Virginia botanists and ecologists. Tom's interests in rare species and the flora of specialized habitats resulted in the discovery of numerous new county and state records. Groups of primary interest were Carex (Cyperaceae) and pteridophytes. In the later years, he shifted focus to bryophytes and lichens which he continues to study in retirement.
MORE INFO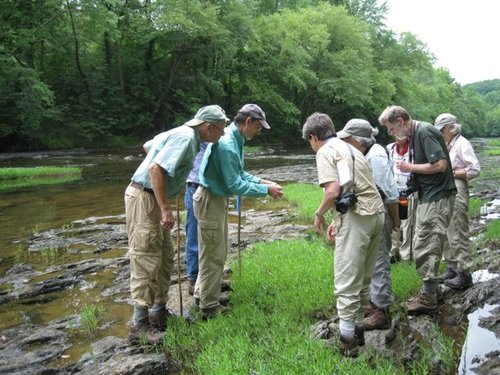 ---
Volunteers
John Ford, Volunteer
John is a retired computer programmer who volunteers at VPI three days a week. Recently he has been databasing grass specimens for us.
JOHN IN THE NEWS!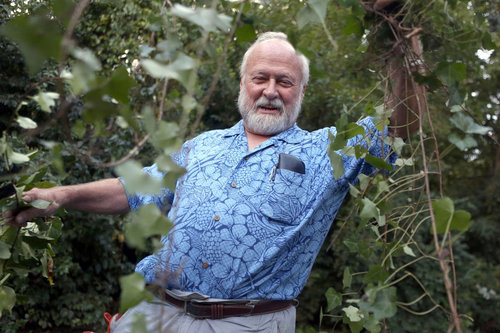 ---
Linda Gette, Volunteer
Linda volunteers in the herbarium during the summer and helps with mounting and repairing specimens. She also volunteers at Archbold Biological Station and will soon have her own floristic research project at VPI.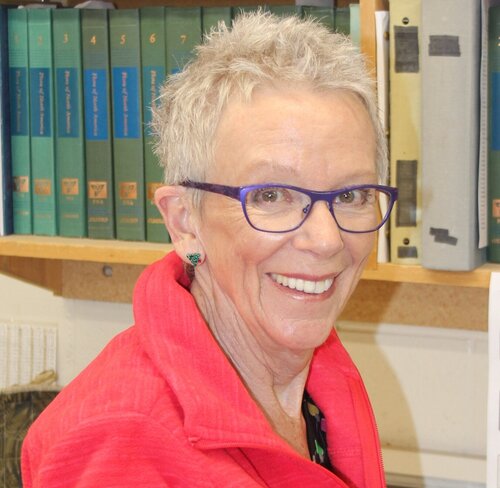 ---
Undergraduate Students
Caroline Bradford, Undergraduate Researcher
Caroline is a pre-pharmacy student in her senior year and is majoring in Biological Sciences. She is studying the cultural value of bloodroot and red trillium as well as their harvest sustainability.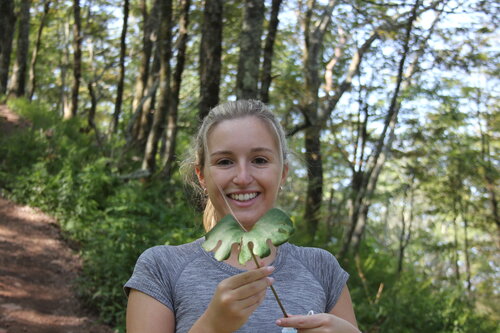 ---
Chrissie Herzog, Undergraduate Researcher
Chrissie transferred to VT to study biochemistry and is in her senior year. She is inventorying the mushroom flora in VT's old growth forest, Stadium Woods.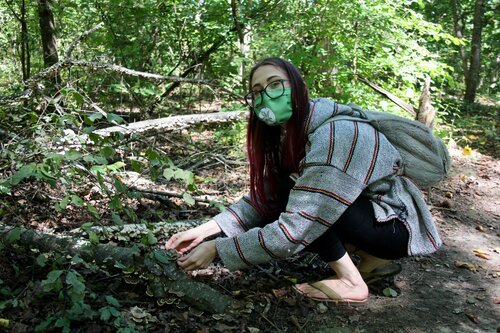 ---
Dyess Harp, Undergraduate Researcher
Dyess is a junior Wildlife Conservation student with a deep interest in bats. They are developing a research project assessing climate change impacts on sundews (Drosera).
---
Gillian Mundt, Undergraduate Researcher
Gillian is a senior majoring in biological sciences. She is documenting traditional plant remedies in the southern Appalachians for gynecological issues.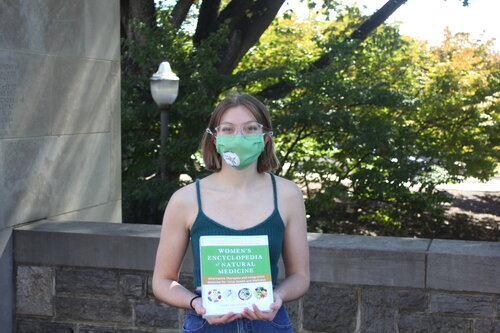 ---
Grace Tedrick, Undergraduate Researcher
Grace is a senior majoring in wildlife conservation. She is interested in environmental education and is developing a module on pollination biology for our education and outreach efforts.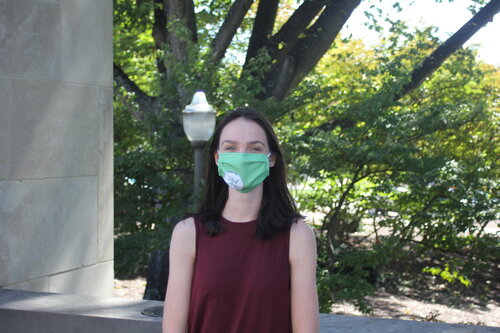 ---
Hannah Wojtysiak, Undergraduate Researcher
Hannah is a junior majoring in Wildlife Conservation. Her project is determine whether local rock fern species have special dispersal adaptations. She is also a peer mentor in the Orion Living-Learning Program.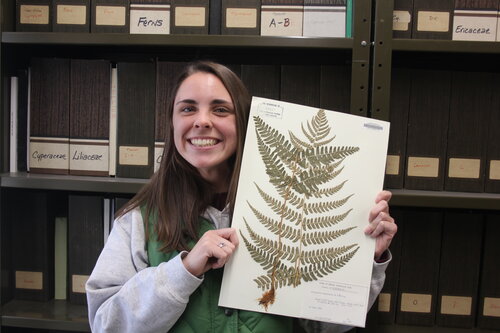 ---
Jess Colvin, Undergraduate Researcher
Jess is a senior Biology major. She is working with Krystal Chao to catalogue Chinese magnoliid species with medicinal species and apply methods using phylogenetic diversity to predict new species to examine for medicinal properties.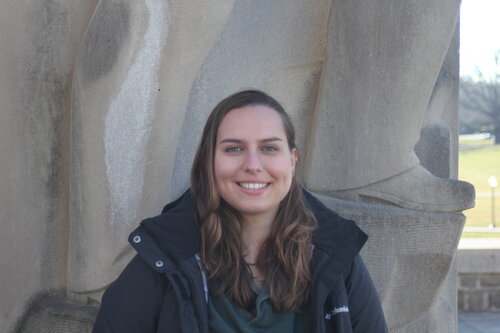 ---
Kiana Nowall, Undergraduate Researcher
Kiana is a junior Wildlife Conservation student. She is documenting local plant species that are toxic to dogs and preparing associated educational outreach materials for dog owners and veterinarians.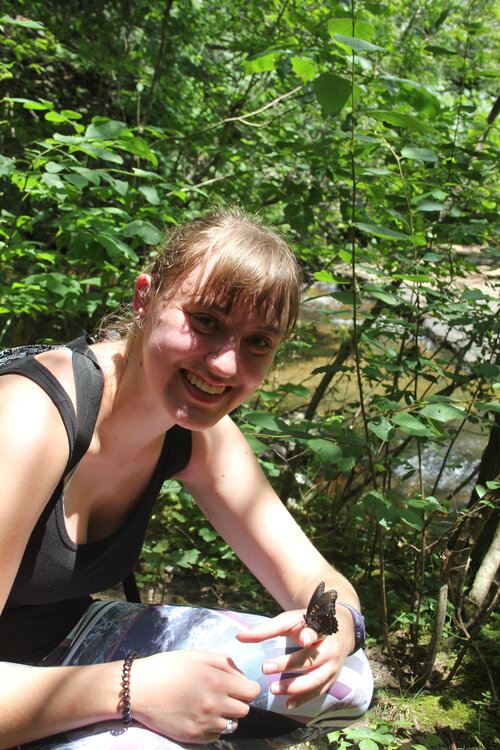 ---
Rachel Rosenquist, Undergraduate Volunteer
Rachel is a sophomore majoring in environmental science at VT. She is a peer mentor of the Orion Living – Learning Program on campus. She is volunteering in the herbarium to further her knowledge of environmental science.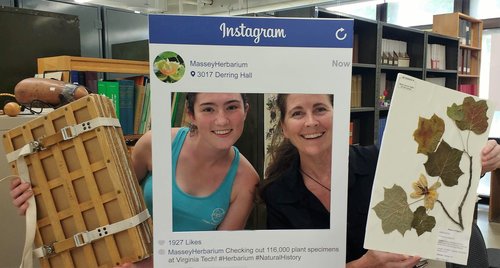 ---
Alumni
Allen Milby, Undergraduate Researcher
Allen is a VT Wildlife Conservation alumnus ('19) from Newport News, VA. He is interested in mosses and lichens and is inventorying the cryptogams of VT's old growth Stadium Woods to understand the impacts of urbanization on lichen diversity. He is currently working as a curatorial assistant in the Harvard University Herbaria.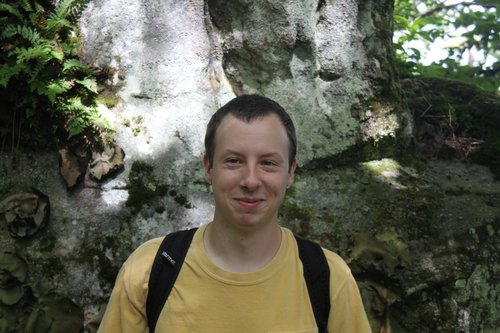 ---
Amber Conner, Undergraduate Researcher
Amber is a senior majoring in Biological Sciences. She is restoring the herbarium's historical seed collection.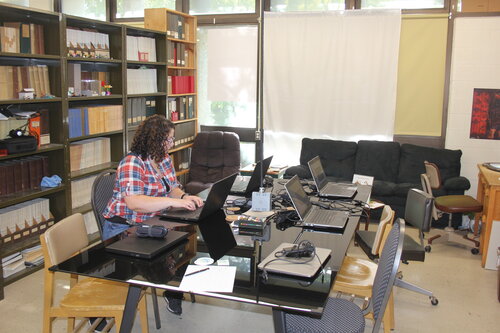 ---
Amber Reaney, Undergraduate Researcher
Amber is a VT undergraduate majoring in microbiology from Woodbridge, VA. After discovering the herbarium during our Flora of Virginia exhibit, she sought a project that would incorporate her interest in mushrooms. She is currently preparing a manuscript for her project on the antibacterial properties of oyster mushrooms (Pleurotus spp.).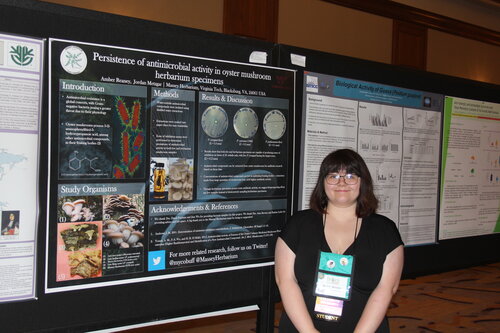 ---
Emily Gardner, Undergraduate Researcher
Emily is in her junior year studying Wildlife Conservation. She is developing a project that will compare and contrast seed banks in old-growth and secondary forests in Virginia's Piedmont.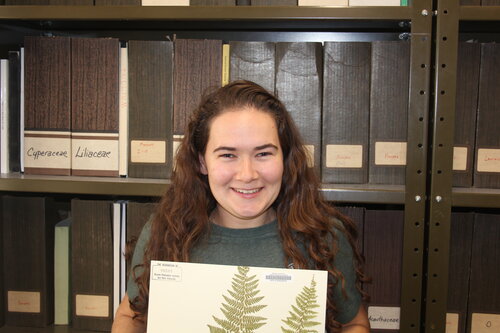 ---
Erin Quesenberry, Undergraduate Researcher
Erin is a VT Wildlife Conservation alumna ('19) who grew up in nearby Pulaski, VA. She has long been interested in plants and founded the Natural History Collections Club at VT. Erin documented part of the Virginia Tech campus flora by collecting plants from campus buildings and is using these collections to determine the role of life history traits such as dispersal strategy in colonization success. She is currently working at the Safe Haven Wildlife Sanctuary.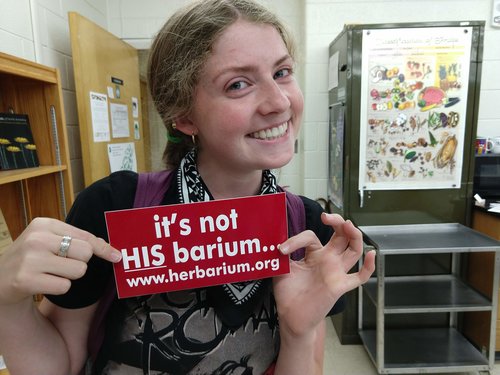 ---
Jake Riney, Undergraduate Researcher
Jake is a VT undergraduate majoring in Computer Science. He developed an interest in the herbarium during our Flora of Virginia exhibit. Jake is a biologist as well, leading to his project constructing ecological niche models to infer fern distributions during the Last Glacial Maximum.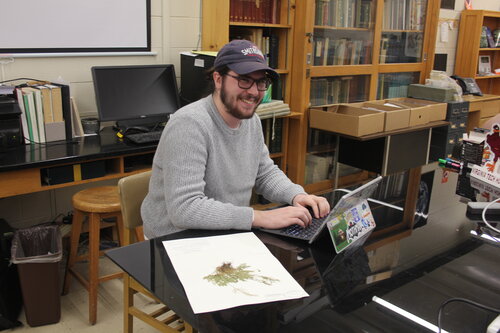 ---
Katherine Berg, Undergraduate Researcher
Katherine is a senior majoring in Biological Sciences. She is developing her project examining the forensics potential of plant material from local forests.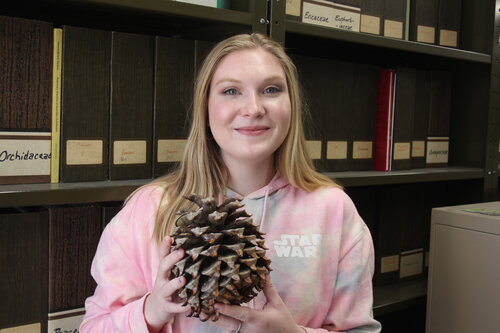 ---
Krystal Chao, Undergraduate Researcher
Krystal is a pre-pharmacy Biological Sciences major. She is cataloguing traditional Chinese medicinal species in the magnoliid clade and will analyze their phylogenetic diversity to identify potentially overlooked species with medicinal potential. Krystal is also an avid rock climber and jazz piano player.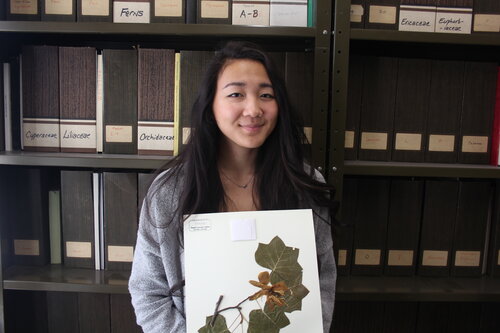 ---
Ksenia Pereverzeva, Undergraduate Researcher
Ksenia is a VT Biological Sciences alumna ('19) from Springfield, VA. She developed an interest in ethnobotany while taking Plant Taxonomy (BIOL 3204). Her research is identifying potential medical plant species by analyzing the phylogenetic diversity of medicinal plant species used during Virginia's colonial period. She also founded the student organization SocieTea, focusing on the wonders of tea. Previously, she catalogued historic plant uses at Smithfield Plantation and developed recommendations for native species to use in revegetation efforts along Stroubles Creek. Ksenia recently finished her botanical internship for Americorps in Shenandoah National Park.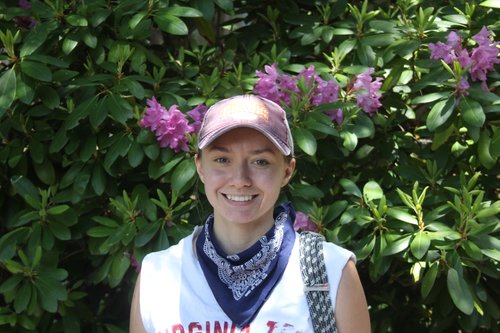 ---
Sydney Corral, Undergraduate Researcher
Sydney is a senior majoring in Wildlife Conservation. Currently she is working with Hannah to determine whether local rock fern species have special dispersal adaptations.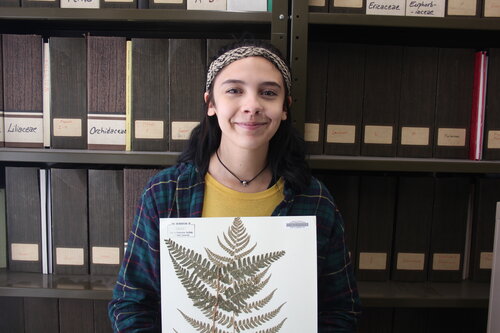 ---
Location
We are located in room 3017 of Derring Hall on the Virginia Tech campus in Blacksburg, VA. We are in the east end of the building.
If you are driving to campus, please visit the VT Visitor Center to obtain a free parking pass.
Derring Hall has a confusing layout. Use the map below to find us in the east end of the third floor.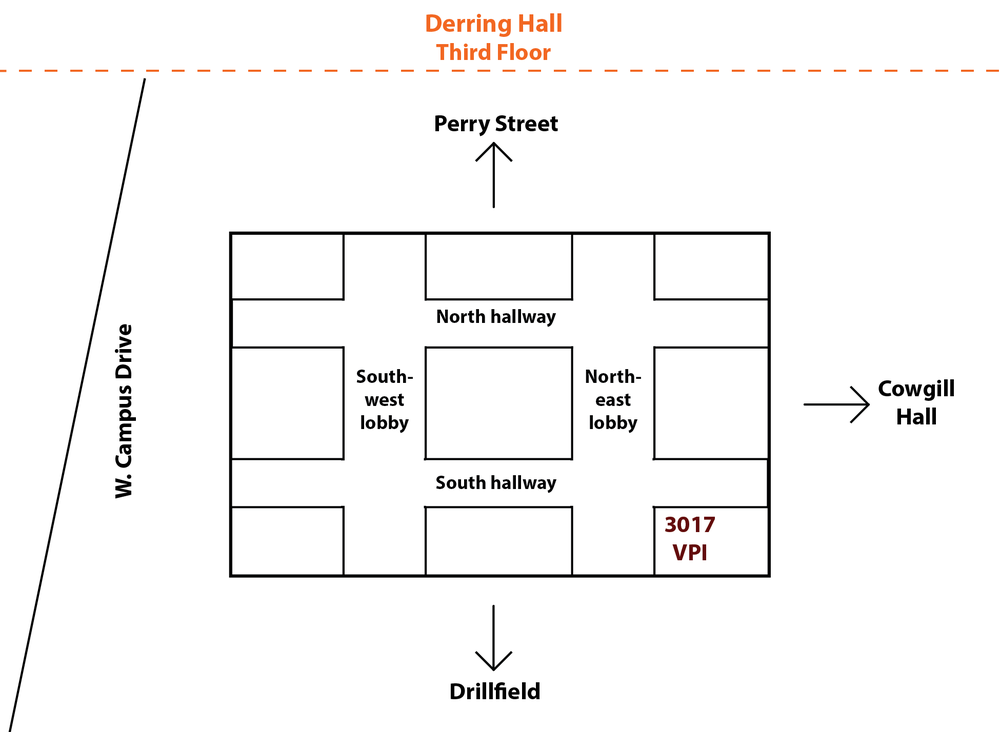 Banner image of painted trillium (Trillium undulatum) courtesy of Virginia Wildflowers.